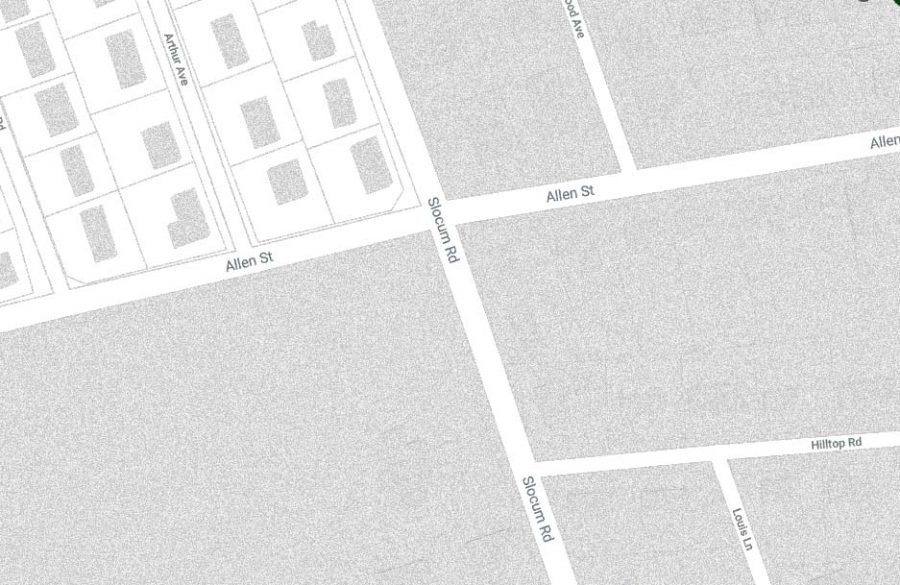 Google Maps
IN THE DRIVER"S SIDE of a dark grey, hand-me-down Honda, senior Reilly Leconte sat up straight, both hands on the wheel, driving down Allen Street, focusing hard on the road. Rain was pouring down, each drop beating on the windshield before being swept away by the windshield wipers. Leconte had prepared herself to drive in the rain. She made sure to remain calm yet attentive. But nothing could have prepared her for what happened on this particular drive home from colorguard practice. Through the rain, Leconte saw movement on the side of the road. Distracted, she slowed her vehicle.
All of a sudden, through the storm, a small lizard came speeding out of the spot on the side of the road where Leconte was stopped. Its legs carried it across the road with no hesitation, sprinting, flying, zipping, a relentless speed demon. Leconte laughed as she told me this story, but I could tell there was a deeper meaning. This was a game changer. There, stopped on the side of the road on her drive home in the rain from practice, Leconte revealed that she is easily distracted by lizards.
This is just a glimpse into the interesting life of Reilly Leconte. Wearing a peach colored dress and her hair up in a matching scrunchie to show her gold dangling earrings, she told me that her favorite classes are journalism, media, and human geography. She has a particular interest in writing and television. Leconte is a member of the Dartmouth High Media Club. Here, she hosts her own show called "Right After School." On the show, Leconte interviews different people involved with clubs and gets the word out to make these groups recognized.
Leconte's fascination with media and television broadcasting does not end with her involvement in media classes at school and the media club in her free time. She hopes to make a career out of it. Leconte has plans to apply early-action to Emerson College to study broadcasting and television. Her goal with this is to eventually end up as a writer for a comedy show, or a sitcom, that resembles her own favorite television show It's Always Sunny In Philadelphia.
When I asked Leconte where she envisions herself in ten years, she said, "Working in a big city, doing something that makes me happy."
What that looks like for Leconte, as of now, is along the lines of becoming a writer for a show like Saturday Night Live where her work doesn't feel like work and the laughing is constant. Her ability to make a story about a lizard crossing the road surprisingly entertaining indicates she will not have trouble fitting in on a comedy show. Leconte likes a fast paced environment, so working in a place like New York City, where everyone is always bustling, is a dream for her.
For now, though, Leconte is a member of Dartmouth High's Color Guard Team. She has been a part of this for five fall seasons and four indoor seasons. Although she loves the sport, Leconte admitted that after high school, she most likely won't continue on with it.
"Independent color guard groups are just not for me," she told me.
With fingers dressed up in stackable rings and wearing a pair of brown Mayari-style Birkenstock sandals, Leconte told me that she is currently "working on her style." She holds the motto that how one presents oneself represents how one feels about oneself. Leconte also prides herself on her "dad music," which is a genre of music by artists like the Beastie Boys and REM, that as you could probably guess, is inspired from her own dad's taste in music. She also listens to musical theatre hits and a genre called vaporwave.
"It's like this anti corporate music that has some really nice beats," she said.
Leconte is a highly involved 17 year-old high school student. She has a strong personality based off her love for television broadcasting and media, writing, music, comedy, and colorguard. She has a good vision for her future self, and she knows how to ask all the right questions.
"Have you ever seen a speeding lizard crossing the road?"