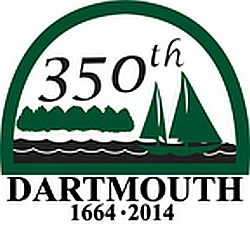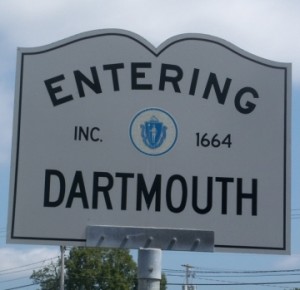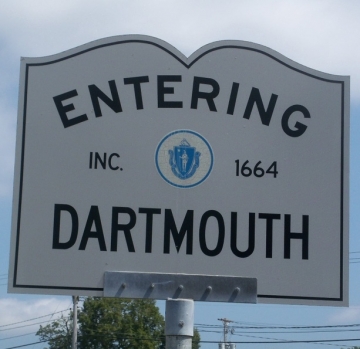 Dazzling fireworks will light the sky over Apponagansett Bay, live music concerts will be heard all throughout town, locals can watch competitions between firefighters, local chefs, and beard-growing men, and a giant parade filled with clowns, horses, and floats will bring delight to people of all generations.
It's Dartmouth's 350th Anniversary.
Starting almost a year ago, preparations for Dartmouth's 350th anniversary began at DCTV studios and the festivities are approaching fast.
"Once we got started there has been lots of enthusiasm," said director of media at DCTV and chair of Dartmouth 350 Cynthia Marland. "It's been a fun, learning experience."
Dr. Marland and DCTV got involved with the planning when meetings began taking place at the DCTV studios. "A lot of questions were coming in from the general public so we decided to host the meetings here," said  DCTV cable access coordinator Derek Frates. "Being the town access channel, DCTV seemed like a good fit."
As the events started to approach quickly, Dr. Marland began to take charge. "It evolved that we started to take over the meetings," she said. "The staff at DCTV has been nice enough to support me through this all together."
DHS junior Lydia Furtado designed the logo for the anniversary after a competition took place in Art 2 Foundation classes.  The 350 committee wanted high school students to get involved, so students in the class worked on different logo ideas and Dr. Marland chose the logo that most accurately represented the anniversary. "At that point we moved ahead," said Dr. Marland. "That's how we got everything kicked off."
Festivities began on Saturday, March 23 with the town's gala at Hawthorne Country Club. The big event, the incorporation anniversary, will take place on June 8 and will last all day at Apponagansett beach. "This is the actual date of the town's opening," said Dartmouth resident John Beauregard, who is in charge of finances for the 350th. "We have a lot of reasons to celebrate."
"There are lot's of different events for everyone to enjoy," said Dr. Marland. At incorporation day, members of the town can watch live music from local bands, a historical reenactment by the Dartmouth Middle School drama club, and the Brother's of the Brush beard growing contest.
The Brother's of the Brush contest includes 115 men, all of which who have already entered, who each will grow a beard and the man with the best beard on June 8 will be the winner. "What's cool is the chairman of the competition actually participated in the same contest 50 years ago in the 300th anniversary," said Mr. Frates.
Later in the evening, fireworks will blast off right on the barges of Apponagansett harbor.
"When I got involved, I told the coordinators I wanted the best fireworks display the town has ever seen," said Mr. Beauregard. "It's fun to get involved for the town."
Baycoast Bank donated $10,000 for the fireworks display and other private donations have been made for other aspects of the festivities.
"There are a series of events and celebrations we're raising money for," said Mr. Beauregard. Town meeting members voted for $80,000 from the town to go into the events. "It really wasn't enough to do it right," said Mr. Beauregard. "The town put money aside, but to make it big, we still need to raise money."
Bank Five donated $10,000 for the parade on September 7 and a private donor paid for the Shriner's group to participate in the parade. The Shriners is an organization that brings their own entertainers and floats to make parades bigger and brighter.
"The Shriner's group is really cool. They bring their own cars, clowns, floats, and literally bring their own parade within a parade," said Mr. Beauregard.
"We didn't realize how expensive things would be," said Dr. Marland. She explained that the committee only put $4,000 aside for the parade, but the parade will actually cost over $25,000. "There's a lot of things that cost more than we expected, but it will be worth it when the day of the parade arrives," she said.
Throughout the summer, different villages will be holding their own festivities and on May 18, a concert will be held at Dartmouth High School where the Sine Nomine Choral Group will be performing music from the 1600's, when Dartmouth was created.
The Smith Mills and Hixville villages celebration from May 24-25 will include a civil war living history encampment in front of Dartmouth Middle School, an antique car show, a chorus concert performed by elementary students, and a regional fire muster. "The fire muster is pretty neat," said Dr. Marland. "It's a traditional firefighter competition between local stations."
In a fire muster, firefighters compete in a series events to see who can climb the latter fastest, who can shoot the water furthest, and other competitions related to firefighting.
The Padanaram Village celebration from July 26-27 will include a cook off showdown between local chefs, a DNRT story walk, a vintage baseball game, and other exciting events. The Russell's Mills celebration will take place September 5 and 6 and the Bliss Corner celebration will occur all throughout the summer from April to September.
"Each event has its own guidance and subcommittee," said Mr. Frates. Each celebration and event has it's own group of leaders and volunteers working hard to make each individual event and the accumulation of the 350th anniversary a success.
Even though there is lot's of support, volunteers are still needed to assist with the running of the specific events. "We're looking for more volunteers on individual days," said Mr. Frates. He explained people are needed to direct traffic, help clean up, and show people where to go.
Although events are approaching fast, Dr. Marland said she'd love to see more happen this summer, but new events won't be announced until there is adequate funding. "People can find out about everything that's going on by checking the Dartmouth 350 website," said Mr. Frates. Be sure to checkout Dartmouth350.com to read more.
Even just with the planned events, the 350th anniversary will be a success. "I want to get as many different people from different generations and parts of town to come together and enjoy Dartmouth," said Dr. Marland. "I want everyone to remember the summer of 2014."