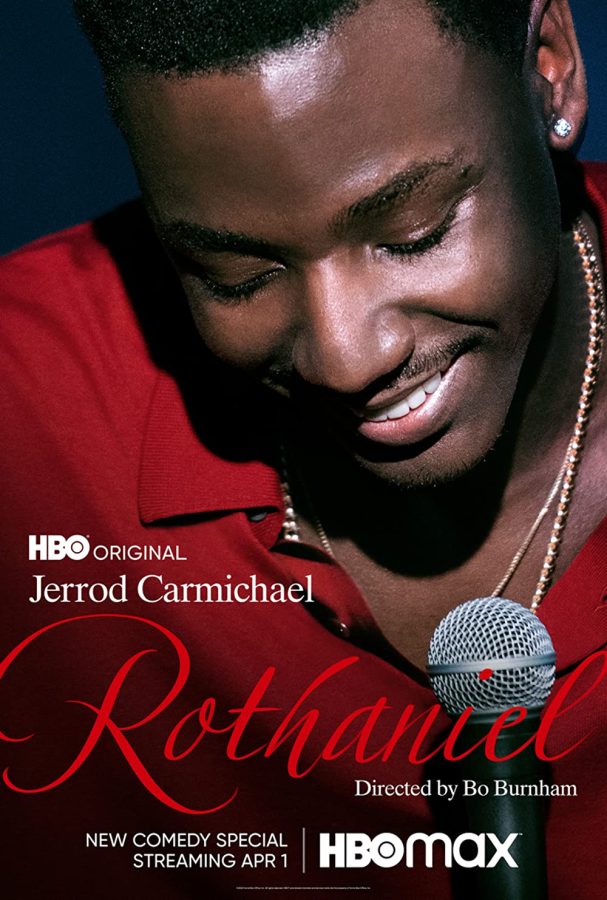 HBO Max
Rothaniel is comedy that transcends itself. In these 55 minutes, HBO becomes the vessel for Jerrod Carmichael's journey into self discovery, as he shares his story of coming out as gay while being a black comedian with a crowd at a jazz club in a way that has never been done before. Vulgar interjections of punch lines ground the special in the comedic genre, but the interpersonal crowd work and the deeply confessional revelations of a man we come to know as Rothaniel allow this piece to become more than the sum of its parts.
On a purely superficial level, this is the most cinematically shot standup special that I have ever seen. Bo Burnham, a comedian already famous for his ability to intensify the personal connections comedy can convey, directs, edits, and produces this special, which immediately vouches for its quality simply by association. Dimly lit by the glow of blue signage in the Blue Note Jazz Club in New York City, the loneliness of the single man seated on the stool above the audience is emphasized by the darkness of the stage around him. Camera angles alternate between close ups and symmetric wide angle shots that explore a feature of standup comedy often avoided entirely by the bright lighting and peppy color schemes of any average comedy special; comedy is done alone.
Carmichael provides a unique perspective into his presence in a field saturated with straight white men, and the hesitance he has felt to reveal this part of his identity for fear of the response he would receive. The crowd becomes a metaphor for this, as his confession is initially met with mere smatters of applause. However, as he continues deeper into his internal monologue and the slew of concurrently heartbreaking and hilarious events that have transpired since he came out to his own parents, raucous laughter and screaming cheers break the tension. The audience members chime in as the stories progress – almost seeming staged – as the questions they ask promote intellectual and complex dialogue, even prompting tears from Jerrod as he reflects on his personal life in front of a group of people he had never met before the evening of the special. He learns to accept love that he lacked in his life from them.
By the last few minutes, the camera begins a slow pan outside the club, viewing the newfound camaraderie from the outside. Snow falls into the frame, and the building begins to look more warm and inviting. As the audience, we feel a connection to the brick structure while we consider the knowledge of what we saw happen within its walls. We feel comforted by the prospect that a group of people who don't even know one another can find such a relationship in a timeframe of less than an hour.
We identify with Rothaniel.