Dartmouth's 350 anniversary approaches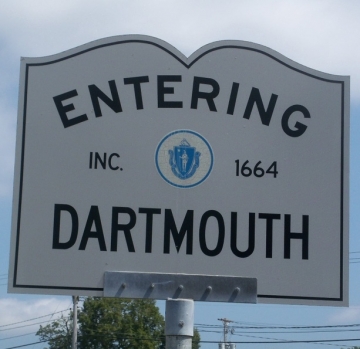 As 2013 slowly winds down, the new year ushers in Dartmouth's 350th anniversary.  Celebrations are planned throughout the summer months, ranging from fireworks to parades.  There are hopes to incorporate all of the communities of Dartmouth in these celebrations. Preliminary discussions have been occurring for months through an 11-person committee under the leadership of Dr. Cynthia Marland.
"We've come up with a calendar of events for next year, running from May 18 to September 7," said Dr. Marland.
The town of Dartmouth was first settled in 1650.  It officially became a township 16 years later on June 8, 1664.  Departing from the town of Dartmouth, England, Puritans set sail and eventually landed in Plymouth. A small faction of Quakers split from the Plymouth group and traded for the settlement of Dartmouth with the Wampanoag tribe.
The land the Quakers acquired also encompassed the towns of Westport, Fairhaven, Acushnet, and the city of New Bedford.  Quaker influence still resides today in the town of Dartmouth.  Meeting houses still exist in Smith Neck, Allens Neck, and Apponegansett.
Given the enormity of the task at hand, the committee was established in March of this year and meets on a monthly basis at the DCTV studios.  Existing in cooperation with the 11-person committee are various sub-committees that are tasked with more specific agendas.
These sub-committees are in charge of the organization and logistics of events "including a parade, fireworks, fundraising, marketing, and memorabilia," according to Dr. Marland.
Dr. Marland estimates the total cost of the summer-long celebration, including the aforementioned plans, to be approximately $70,400.  The town funded the fiscal sum, but Dr. Marland said, "We have fundraised an additional $10,000 and will continue to fundraise throughout the year."
The majority of the budget will be put into funding the June 8 celebration at Apponegansett landing.  The incorporation ceremony will be re-enacted by the Dartmouth Middle School drama students.
In fact, much influence has been put on incorporating the Dartmouth school system into the ceremonies.  Dartmouth High School student Lydia Furtado, who won the contest run by the committee with help from the DHS Unified Arts Department, designed the logo for the 350th Anniversary.
Dr. Marland is also hopeful for DHS involvement on the last day of the celebration, September 7.  She hopes students help out in the 350th parade by building a float for it.
Beginning on May 18 and lasting until September 7, the celebration season plans to involve all communities of Dartmouth.  Occurring in order of date, celebrations are planned for the villages of Hixville/Smith Mills, Bliss Corner, Padanaram, and finally Russells Mills.
Dr. Marland cites an abundance of enthusiasm from various communities in making these plans a reality. "There's been a lot of folks coming forward [to help]. It's going to be a lot of fun," she said.