The Champions: Marching band and color guard place first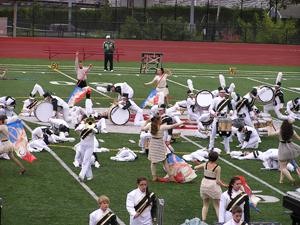 On Thursday, November 28, the DHS Marching Band marched onto the field as champions at the Thanksgiving game at Fairhaven High School.  After receiving a score of 96.6 at the US Bands 2013 National Competition on November 2, the band is back on top along with honors of best music, best percussion, and best visuals.
"It's a gratifying experience," said senior band member Nicholas Chaves, "because from August up until the middle of November we're constantly working the show and winning makes it so much more worthwhile."
During weeks with Friday football games and competitions, the band and color guard practice six times a week, at a minimum of three hours a day.
A typical fall band practice will start in the student parking lot. Students stretch, warm up, and practice basic movements. The group then gets split up as the woodwinds section rehearses music from the show and the percussion and drums practice for about an hour. Together the band and color guard work all parts of the show for two hours and then spend the final 15 minutes running the show together.
The marching band has won the title of National Champions seven times under the direction of Music Director Bill Kingsland. "We have a really good team, and everyone has strengths that they bring to the table," he said.
Assistant Band Director Thomas Aungst does excellent work with the percussion and instructor Ian Flint does great work with movement and drills.
"The consistency of the teaching staff is great from year to year," said Mr. Kingsland. "We have high standards and there is a great amount of work ethic from the students. They know once they sign up there is a considerable amount of time they need to put in, but it's worthwhile whether we win or lose."
One great part of being a member of the marching band and color guard is the relationships that students create during the season.
"Band provides an outlet for establishing friendships and relationships," said Chaves. "You create a great connection with people."
"There are people that I'm friends with that I would never be friends with without color guard," said senior color guard captain Taylor Nunes. "I've also learned a lot about time management because on practice days I only have a few hours to get my homework done."
On average each member must remember 10 minutes worth of music and an average of 120 separate coordinates. There are 114 students in the high school marching band, some of which are eighth graders.
"It really is great that you can be part of the marching band in eighth grade," said senior Ethan Kay. "Once you get to high school you already have friends and know a lot of upperclassmen." The marching band shares a bond that is more like a family than just another school activity.
"Not only do we have great kids, but we have a great support system," said Mr. Kingsland.  "We have parents who are always supporting us, the DSMA, and Ms. Clemmons who helps us stay organized."
Last year, after consecutive years of placing first, the marching band received second place at the competition. Mr. Kingsland stressed that when people asked him what happened, he would say nothing bad happened because second place is still great. "We had a great group last year and they did their very best," said Mr. Kingsland. "Nothing went wrong."
"You can't compare past shows with each other," said Kay. "They're all special in their own way and all require a lot of effort."
"Comparing different performances is like comparing sporting events," said Chaves. "Of course they're going to be different." Every game will be different because you're playing against different people and may have different mind sets.  "Each show is different, and there's always room for improvement."
Still, it is gratifying that this year the band won first place with their performance of "Midnight in Paris."
People may not know that the marching band continues to add to their show up until the very last performance. "We are never ready," said Mr. Kingsland. "You see these teams who consider themselves ready in September, but then you don't see any growth."
The band members push themselves during the season and throughout the year, so the season is never officially over. The band participates in multiple parades, town events, and concerts. On average there are about 15 minutes of parade music, 15 minutes of pregame music, 10 minutes of show music, and an additional 30 minutes of music for games, all of which needs to be perfected before performed.
After marching band season, the students continue to take the class. However, some also stay involved by joining winter color guard, indoor percussion directed by Mr. Aungst, or the dance team. These teams will compete with hopes of making it to Dayton, Ohio to compete at MetLife Stadium as they did in past years. "It's my senior year so I really want to do well and make it to Ohio," said Nunes.
Practices and rehearsals for these groups are well underway. After such a successful season for the band, we know the other music groups will do just as well. "We don't want peak years," said Mr. Kingsland. "We want to be good every year."
Leave a Comment