New coaches for DHS basketball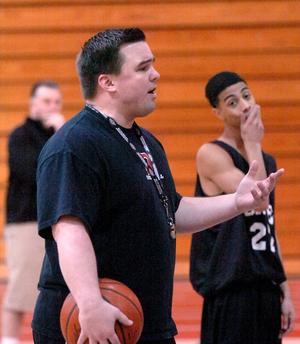 This winter season, the DHS basketball team welcomed a new coaching staff with big goals and ambitions for an excellent 2014 season.
The new coaching staff includes athletic director and varsity coach Jeffrey Caron, DMS physical education teacher and junior varsity coach Sam Madden, and English teacher and freshman coach Marek Kulig.
"The three coaches last year did all the right things and we want to continue on with the success of the program," said Mr. Caron. Last year's coaches included Steve Gaspar, Mike Oswald, and former DHS history teacher Jim McGonigle.
"Everyone's coming in with a fresh point of view," said Mr. Kulig. "We tried not to change anything drastically, and we are using this year more as a transition year."
"The first thing I said to the players was our ultimate goal, and that goal is to win a state championship," said Mr. Caron who is in his fifth year of being athletic director at DHS. "The short term goal is to win our league and qualify for the state tournament." The team is ready for a lot of preparation and practice to achieve this goal.
"Our goal since the beginning of the season is to win our league and eventually win the state championship," said senior varsity captain Connor Tavares. "We are currently on a three-game winning streak and we're hoping to make it four after the game at Stang this Saturday."
"When coach first spoke to us he set our goal," said senior varsity captain Nick Simonetti. "We started off a little slow but we are getting better and better every game."  Simonetti also stated he would like to see the team continue on with their winning streak.
"Lately we've been watching a film before or after practice to prepare for an opposing team," said Mr. Caron.
An average practice lasts two hours in length. The team warms up, practices dribbling up and down the court, and practices drills. The midpoints of practices are dedicated to preparing for a specific opponent and practice is usually ended with a team drill.
"Our goal is to always be preparing the team for the next level," said Mr. Kulig. "They should always be trying to impress us." According to Mr. Kulig, two freshmen have already been moved up to the junior varsity level.
Team members have positive things to say about the coaching staff and look forward to improving their skills and learning new ones.
"All the coaches this year are tough, but they are great," said sophomore and junior varsity player Jack Sullivan. "They teach us to be more than average basketball players and teach us to be really, really good."
"The plays that the coaches write up are effective on the floor," said sophomore and junior varsity player Cooper Smith.
"We were really excited for new coaches," said Simonetti. "We knew right away from the first day that we were going to be pushed really hard and work hard every day at practice."
"The season is going well so far," said Mr. Caron. "It's always tough when there's a new coach, but the whole team has been receptive and willing to learn." Mr. Caron went on to say how great the team has been this season and that it has been enjoyable being their coach.
"I really like our team," he said. "They work really hard for us."
The seniors have been standouts this year, especially captains Nick Simonetti, Connor Tavares, and Cody Borges. "You wouldn't even know they were seniors," said Mr. Caron. "It can be hard to teach old dogs new tricks, but they're ready to learn."
The coaches each have a long history with basketball and are excited to be coaching. Mr. Caron played four years of basketball at Durfee High School and received an athletic scholarship to play at Merrimack College. "I was obsessed with basketball since the age of five, and I still am," he said.
As for being both the athletic director and the varsity coach, Mr. Caron said it is all about time management. He started his career as an athletic director where he also was the head basketball coach for three years before coming to Dartmouth.
"Basketball was a lifelong dream, starting from when I was ten-years-old playing in New Jersey," said Mr. Kulig. "My physical presence and my legs might not be able to play anymore, but my heart definitely can."
Mr. Kulig played all through high school and was scouted by Yale, Columbia, and Princeton. "I don't think I was selfish enough to go to those schools, and my SAT scores probably wouldn't be high enough," he said. Mr Kulig did, however, play his junior and senior year at Assumption College, but couldn't play as a freshman or sophomore due to an injury.
"It's good to be back on the court again," said Mr. Kulig, who recently has started playing in a league in Wareham. "It's crazy to think after my senior year I didn't touch a basketball for over a year and a half."
As the season continues, both the team and the coaches encourage DHS students to come to games to cheer their fellow classmates on. "We're excited, and we'd love to see the fans," said Mr. Caron.
"We're off to a really good start," said Mr. Kulig. "The kids are really working hard, and we have to continue to get them ready for the next big step."
Leave a Comment