Sartorial scandal at DHS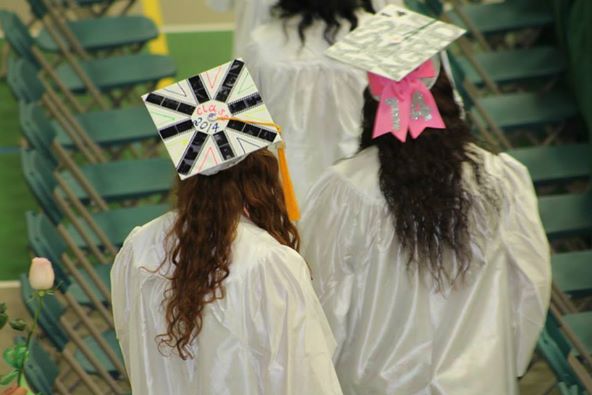 On January 21, 2015, Interim Associate Principal Joanne Desmarais sent an email to seniors and their parents. In the email, Ms. Desmarais wrote, "As school officials begin our early preparations for this year's commencement ceremony, we would like to bring to your attention a change in practice regarding caps and gowns."
According to the Massachusetts General Law chapter 76, section 5, the law prohibits requiring students to wear "gender-based garb." This law was created in 2011 and implemented in schools across Massachusetts in 2012. In her email, Ms. Desmarais wrote, "Historically, DHS has assigned females white gowns and males green gowns. In accordance with the law, all graduates will wear green this year."
According to the new law on gender identity, the Massachusetts General Law "provides a good opportunity for schools to review their gender-distinct policies." It states an example in regard to how some schools require students to wear gender-based garb for graduation or have gender-based dress codes for prom, special events, and daily attire. However, the memo states that, "Schools should eliminate gendered policies and practices such as these. For example, one school that previously had blue graduation gowns for boys and white ones for girls switched to blue gowns for all graduates."
Interestingly enough, the law states that schools "should" eliminate the gendered policies; however, it does not state that this is mandated. Herein lies the problem and where the controversy begins at DHS.
Senior Jordan Gaudreau said, "I think it is unfair that we have been paying class dues for four years thinking that I will be getting what I want on graduation day; however, I am not getting what I wanted or hoped for."
Many seniors, females especially, are in opposition to this change that was announced to the senior class. Students are questioning why the senior class found out about this change now when the seniors ordered their graduation gowns in September from Herff Jones. Seniors also felt unhappy that they weren't involved in the decision making process.
Senior Rachel Medeiros said, "I think the issue could have been handled in a different way, involving the students. Just because it can be seen as separating by gender, doesn't mean we had to eliminate white entirely."
Ms. Desmarais said that the administration was trying to correct as a school what they didn't do in 2012. "We made the decision to go all green because everyone has an equal right to be equal in school regardless of race, ethnicity, sex, or religion," said Ms. Desmarais. "We really believe we did the right thing."
Some individuals don't mind this recent change. Senior Lydia Furtado felt that the change would be beneficial to the LGBTQA students in the senior class who feel uncomfortable with choosing a color associated with gender. "Even if students were given the choice, most girls would pick white and most boys would pick green, unintentionally reinstating gendered robes," said Furtado. "A person's gender identity is way more important than a person's preference in color. It is more important that students feel comfortable with themselves during such a memorable moment in their lives."
English teacher and Gay-Straight Alliance adviser Nichole Charbonneau said that having one color robe for graduating seniors, beyond being lawful, is a change that shows respect for both other people's various comfort and openness with identity preferences as well as individual responsibility as a sensitive, tolerant member of society. "In many ways, gendered dress codes and expectations are a learned behavior," said Ms. Charbonneau. "It is up to us to unlearn them, or to at least recognize them. We should be committed to positive social progress."
Students also questioned why we couldn't change the color to a neutral color. "No one says, 'Go Big White,' they say, 'Go Big Green,'" said Ms. Desmarais.
Senior Catherine Mikkelson said that she has been looking forward to wearing white for graduation. "It may seem menial to some people, but the color is important to most, which is the whole point of all of this, and I don't want to be stuck with green."
According to Auditi Guha's Standard Times article, School Committee member Christopher Garth commented that perhaps we should wear black.
"We [the administration] are not happy that it disappoints people, and we realize that maybe we should have had a discussion with the seniors," said Ms. Desmarais.
According to senior Student Council President Thomas Hartman, the data he collected regarding other schools' policies showed that 87.5% of the 16 schools chosen did have gender-based graduation garbs. 12.5% of the chosen schools did not. Hartman stated in his petition, written on behalf of the DHS Student Council and senior class, that, "Every school on this list must follow the rules outlined by the Massachusetts Department of Education" and that the DHS student council had no preference in choosing the schools.
"We believe that having a petition is a great way to express what they [the students] want. It goes to freedom of speech and we respect that," said Ms. Desmarais.
Principal John Gould could not be reached for comment.
"My true fear is that all of the fun will be overshadowed by the gowns at graduation," said Ms. Desmarais. "People can still decorate their mortarboards, and what they wear underneath their robes is their choice as long as it's appropriate."
Leave a Comment