DHS hosts its first TEDx event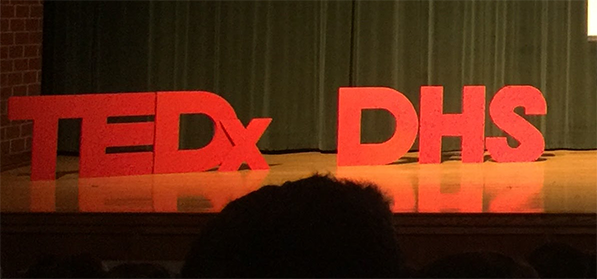 On March 9, History Teacher Elizabeth True and Foreign Language Lead Teacher Hilaria Sousa hosted a TEDx event in the DHS auditorium. Three talks were given each block centering around the event's theme, "Languages Enrich Your Mind."
Based off professional TED Talks that focus on a wide range of topics from science and technology to art and history, the TEDx event, the local version of TED talks, had a broad lens of language from the complex language of math and science to the life of a language.
The auditorium was decorated with large red letters on stage spelling "TEDx DHS," and the Media Club recorded the event. Eleven students volunteered to research and present ten-minute presentations on their topic of choice revolving around language.
The students involved created a simplistic design for their PowerPoint slides, making it easy for the spectators to follow along. Besides some minor mishaps due to the use of a computer mouse to change slides, a wireless microphone, and the occasional slide that was made of bulleted paragraphs, the event ran smoothly and engaged the majority of the audience.
It was so popular that over 200 students attended the presentations each block, and some teachers, such as Mandarin Teacher Emily Wang, attended the event all three blocks. The event, however, was exclusive and only accessible to teachers who had signed up ahead of time.
TEDx DHS was made as professional as possible with all students receiving an introduction and dressed appropriately to speak on behalf of a topic. Senior Emily Chen presented an unusual take on the language of math and science. "It was a great experience," she said. She did, however, believe that the presenters could have benefitted from more preparation time and a better setup. "We only practiced once with the mic so it was confusing, and, because the clicker was a mouse, some people were right clicking," she said.
Senior Megan Lizotte took a more standard approach to the topic of language by researching the recent English as a Second Language courses teachers must take. TEDx DHS was the largest scale presentation she has ever done and she said, "I can honestly say I never started off as a public speaker, but TED showed me I could get up on stage and speak in front of around 250 people. That, in itself, is priceless."
One of the volunteers who was recruited, History Teacher Andrew Apperson, said, "I was thoroughly impressed." He spent the day supervising the event and signed up all three of his classes to view the presentations. "I was excited to see the professionalism of the students involved and the enthusiasm of the audience."
Overall, the event was the beginning of an innovative way to enrich the mind of the DHS student body and prepare students with research and presentation skills. The talks left one with inspiring messages such as junior Victoria Costa who said, "Maybe it's time to listen to the people with the smallest voices because they still have much to say."
The students at DHS still have much to say and maybe in the future, they'll be able to say it at future TEDx events.
Leave a Comment