DHS Orchestra takes a trip: Literally and figuratively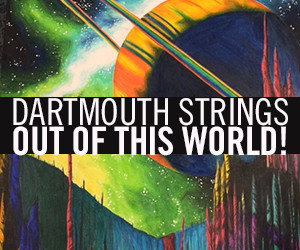 This month, the DHS Orchestra will be reaching new heights and celebrating some spectacular achievements, both in and out of state. On April 12, they will be the first high school orchestra ever to perform at the historic Zeiterion Performing Arts Center in Downtown New Bedford. Their concert, "Out of This World," is fantasy/space-themed and will feature music from movies such as Alice in Wonderland, Game of Thrones, Star Wars, Star Trek, and Harry Potter.
Conductors Charlene Monte and Heather Church have have been involved in the DHS music program for 10 and 13 years, respectively.
"Conducting this group of kids is even better than I imagined it would be when I dreamed about it as a teenager," said Ms. Monte. "This group of kids is so wonderful – their personalities, their exuberance, their passion. So wonderful."
Since they have both have performed at the Z many times, having the DHS Orchestra perform at the Zeiterion has been a goal of Ms. Church's and Ms. Monte's for years.
However, before the orchestra was scheduled to perform at the Zeiterion, they contacted Video and Photography Teacher Joshua Moulding to see if any of his students could set video footage to their music. What came of this are clips from movies whose music the orchestra will be playing, synced to play in time with whichever piece the orchestra is performing. When the two conductors saw some of the videos that these students had produced, they were immediately impressed.
Seeing the sample footage gave them the final push they needed to turn this dream into a reality. Ms. Church and Ms. Monte decided that if the orchestra was ever going to play at the Zeiterion, this was the year to do it. These video clips will be projected onto a large screen behind the orchestra throughout the duration of the concert, which will only contribute to the otherworldliness of the show.
Senior and Orchestra Co-President Devon Duarte said, "One really cool aspect of the concert is that every performer will be dressed up as a fantasy character. I have heard outfits will range from Stormtroopers to Harry Potter attire." He is Principal Chair for the viola section of the DHS Orchestra.
Another significant event for our orchestra is that they will be attending the WorldStrides Music Festival in Washington, D.C., which the orchestra will be attending during the first half of April vacation.
In order for an orchestra to be able to attend this music festival, they must audition. This past summer, Ms. Church sent in an audition tape for the orchestra without telling them, and once she received the email that they had qualified, she surprised them with the good news.
"The orchestra was accepted into this festival and we [Ms. Church and Ms. Monte] are very proud of them. They are going to be playing alone as the DHS Orchestra, as well as with other students from around the country," said Ms. Church. "There is also an honors orchestra component which involves about ten of our strongest players. They'll be uniting with kids from other orchestras to perform additional music while we are there."
Their set list is made up of a wide variety of music. This includes a heavy metal-inspired piece, "Lyric Metal," a classical piece, "The Barber of Seville," and an original piece inspired by the Alaskan sled dog race, "Iditarod."
Furthermore, they will be going to see a live performance of the musical Shear Madness at the JFK Center for Performing Arts, visiting museums such as the Smithsonian and the National Air and Space Museum, and seeing the National Symphony perform.
"I'm definitely most excited about being with some of my best friends and traveling with them. Ms. Church and Mrs. Monte work so hard to give us these opportunities, and I believe they are doing a great job of promoting this orchestra that they've spent years building," said junior bassist Dom Vaccari, who will also be playing in the National Honors Orchestra in D.C.
After speaking with several members of the orchestra, one thing certainly became clear. They are more than a group of students and friends who play music together for an hour and 25 minutes every other day of the school week.
"We are one tight family. We always support each other. Together we play beautiful music and that, I feel like, is going to be the greatest thing about the D.C. trip," said senior and Orchestra Co-President Jaein Jung. "Not only to go sightseeing and spend time away from Dartmouth with this really close group of friends, but to play music in a wonderful city in a beautiful concert hall and to get feedback from amazing conductors."
She is principal chair for the violin section of the DHS Orchestra and will hold the title of concertmaster (the second-most significant person in an orchestra or other musical ensemble after the conductor or director) for the National Honors Orchestra at the WorldStrides Music Festival.
"Being a part of the DHS Orchestra means being part of an immensely talented group of players who respect one another and ultimately have fun with what they do. Even on bad days, being around such animated and supportive group of people makes my day better," said Duarte. He will be fulfilling the role of principal chair for the viola section of the National Honors Orchestra in D.C.
I may not be a music aficionado, but after witnessing the orchestra's talent and skill at the POPS Concert in March, it looks to me as if their competition at WorldStrides is in deep treble.
If you'd like to see the DHS Orchestra's  "Out of This World" concert at the Zeiterion, tickets are available online at www.zeiterion.org (Students & Seniors $7/Adults $12).