New Schedule: What you need to know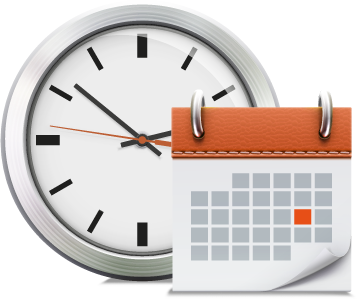 IT IS NOT SECRET that our days using the block schedule are numbered. Students next school year will be attending seven 50-minute periods each day, instead of four blocks. This has raised many questions as to what the details of this overhaul will look like. While administration is still negotiating some components of the new schedule with the Dartmouth Educators Association, most of the changes have already been decided upon, according to Principal Ross Thibault.
One of the most significant differences is that passing periods may be shorter. Currently, students have four minutes to get between classes, but that could be limited to three. Mr. Thibault said, "In order for the language of the agreement to be upheld, passing periods would be three minutes. I would like to keep it at four minutes or even extend it to five." He understands that having to carry seven classes worth of textbooks may cause more students to utilize their lockers and wants them to have enough time to do so. However, if the passing times are not shortened, the school day will be extended to cover the difference.
Additionally, there will be no nutrition break next year, and lunch will also be condensed from 24 minutes to 22. "I don't think this is ideal, but I have to be realistic," Mr. Thibault said. "Most schools in the area have around the same amount of time for lunch. It's not unusual." While he would rather see lunch as long as 30 minutes, Mr. Thibault has observed that most students are done eating after 16 minutes and that this should not be too significant a change.
Course selection will also work differently this year in order to smooth the transition. The Program of Studies will be made public at the February 8 Open House, describing available courses and their worth in credits. The week of February 26 is Course Selection Week. Teachers are to discuss courses with students and make recommendations based on individual interests and post-graduation plans. On the Friday of that week, students will then sign up for courses in the computer labs on Aspen with adult help readily available if needed.
With the past system of students selecting courses on their own and meeting with guidance counselors after this, only around 50% of students signed up for classes on their own. "This approach gives much more information upfront and answers questions upfront," Mr. Thibault said. "We're going to have much closer to 100%. I think it will go much smoother."
Guidance counselors will automatically meet with students who made errors in course selection, such as not choosing enough credits. Any other student can make an appointment with guidance to discuss any questions.
Some classes will also be worth a different number of credits than they are currently. Many electives will be worth only half the year, while AP science classes will take up two periods one semester and one period the next. These decisions were based on discussion between Mr. Thibault, Associate Principal Rachel Chavier, and the lead teachers in each department.  "All decisions were based on the curriculum of the course, not whether or not they were a whole semester before," said Mr. Thibault.
Once students sign up for courses, it will become clearer as to what the new schedule will look like. Currently, it is unknown how many sections a particular course will run. "It's based on how many students sign up for it," said Mr. Thibault.  "We're really trying to build a school based on student interest."
Having one less class will alter the number of credits needed to graduate. The Class of 2019 will be required to earn 27 credits, the class of 2020 will need 26, the class of 2021, 25, and the class of 2022, and all subsequent classes, will need 24 credits.
Students have been concerned about how internship and dual enrollment will fit into the new schedule. According to Mr. Thibault, internships will be one or two periods and is to be determined on a case to case basis. "It's going to depend on job location and student scheduling," he said. "We will be flexible in meeting students' needs. We're not working to reduce internships at all." Dual enrollment will be dealt with similarly, depending on the timing of the course.
There is no concrete decision as to how final exams will operate with the new schedule. However, Mr. Thibault can assure students that the senior final policy, where seniors with an A in the class are exempt from the final, will remain intact.
Many students are wondering why and how the schedule change came to be. Mr. Thibault's understanding is that a committee of teachers and administrators was formed several years ago to discuss the possibility of a seven-period schedule. More recently, it was included in teachers' contracts, which the teachers voted for and ratified in June 2017.
There were many factors that made the seven-period schedule compelling. Core academic classes meet all year, so students will not go months without studying a particular subject. "There are no gaps in time in courses that build on one another, like foreign languages and math. To have such a large gap is detrimental to learning," Mr. Thibault said.
There will also be time built into the schedule for teachers to collaborate. The current schedule only allots time to this once a month, while the new schedule allows every other day. Each teacher will also have an academic support period included in their schedule, where they must be available to struggling students seeking help. Whether or not a student has an academic support period built into their schedule depends on individual need.
Many teachers agree that the new schedule will be very beneficial. "The new schedule solves more problems than it creates. There will be more continuity in courses like math and Biology 1 and 2. Courses like Biology Honors will be less rushed," said Biology Teacher Matthew Tweedie. "There is never going to be one perfect schedule. We will just have to learn to embrace the benefits."
However, there are also downfalls worth discussing. English Teacher Ann Fifield acknowledges that having her classes full year is an advantage. On the other hand, shorter periods equate to less time for taking tests, which will especially be an issue for her AP class.  "I'm not going to be able to give them a full section of the multiple choice," she said. "I'm also concerned about turn around time to give students feedback on writing. We're going to have more students at once and the same amount of time in the evening for grading."
Despite some of the benefits, many students also remain skeptical about the change. Junior Sarah Jorge is concerned about how having seven classes per day will increase her workload. "Having seven classes to fill with honors and AP courses is going to make homework, tests, and final exams, especially, much harder," she said. "I also don't believe the benefits are significant enough to outweigh the many downfalls to it."
On the other hand, Freshman Jameis Lima would like to see the schedule come to fruition. "Everyone is going to have more time and less cramming," he said.
When asked about similar concerns, Mr. Thibault said, "DHS students are just as capable, if not more, as students in surrounding communities who also have seven period schedules. Although they might be nervous and anxious, I have no doubt they will be fine." He does believe there should be a discussion about busy-work versus purposeful homework, but also pointed out that because teachers have more days to cover the material, the amount of homework per class should be reduced.
In order for students to feel more comfortable with a new schedule, there will be a practice day after the seniors leave. The hope is that once students experience the pacing of the day for themselves, their anxieties will be assuaged.
View Comments(1)