New C-floor arrival: Spanish teacher Melissa Lomba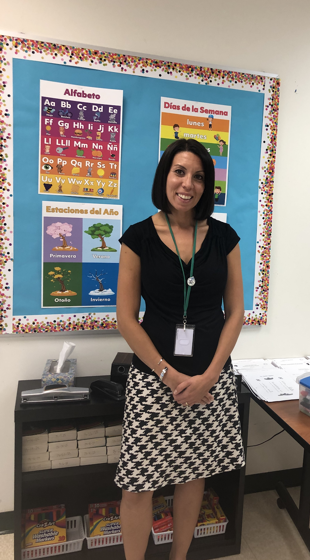 The language department has welcomed a new Spanish teacher this year, Melissa Lomba. She is creative, kind, and excited about teaching Spanish in room C7 at DHS. 
Mrs. Lomba's teaching career began after she graduated from Bridgewater State University. She had her first teaching position at Durfee High School. She taught at Durfee for six years until she went to Dighton Rehoboth High School, where she taught for eight years and now is continuing her love for teaching at DHS.
So far Mrs. Lomba is enjoying DHS and is excited for the school year. When asked about what she thinks of the school so far, she said, "I like it here. It is a very positive environment."
Traveling is a popular hobby and for Mrs. Lomba it is definitely one of her favorites.  The new Spanish teacher loves to explore. She has been to Spain, Mexico, France, England, and Portugal. Traveling is one of her favorite things to do. When asked about her hobbies, she said "I like to read, travel for sure, and the beach is one of my favorite places." She also loves to spend time with her family. She has a daughter, Natalie, who is three and a son, Antonio, who is six.
Mrs. Lomba is not only passionate about teaching the Spanish language but also about the Spanish culture. While discussing what she loves about the Spanish culture she said she "loves their way of life," the culture is "laid back and relaxing." She admires how they "value time with family" and the "work family balance." Another part of the culture Mrs.Lomba loves is the art that comes from Spanish artists. Two of her favorite artists are Picasso and Frida Kahlo. She says that she finds that "their work is inspiring" and it is important to their culture.
So far Mrs. Lomba's time at DHS is having a positive effect on students. One student in one of her Spanish classes, sophomore Emilyn Tavares, says that "she is really nice and easy to talk to."
DHS is fortunate to gain such an inspiring teacher and is excited to see how her passion for teaching Spanish will inspire her students.