Dartmouth Pride: Is it alive and well?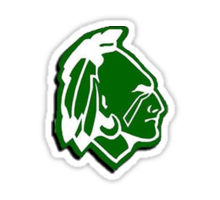 Hang on for a minute...we're trying to find some more stories you might like.
Dartmouth is known for its – what? Its excessive admiration for green and white? Its students blasting rap music from their speakers in the hallways and making everyone groan internally? The sticky notes with inspirational quotes put up on student lockers?
As a community, Dartmouth likes to take pride in the impressive outcomes of sports games and band competitions, as well as the number of students who wear shirts with the signature and controversial Native-American-we-call-Indian logo.
DHS Art Teacher Morgan Bozarth believes very strongly in Dartmouth school pride. Seeing as how she has the ability to accurately compare Dartmouth to Westport since she has taught in both, she said that Dartmouth, by far, has more school spirit as evidenced by the ecstatic energy at pep rallies.
"There is a lot of pride centered around sports and after school activities," she said.  The school doesn't clear out as soon as the bell rings. Ms. Bozarth said that just by decorating lockers, you are displaying Dartmouth pride. She is specifically proud of the students who are "helping each other inside the classroom and hallways, and all of the kindness in the classrooms."
One senior believes that there is no such thing as Dartmouth pride unless you are willing to support every opportunity and activity the school has to offer. This student said that our town is very tightly knit and always aware of what is happening within the community. "I think we have something to be proud of. The school has a great education system, sports programs, and arts classes," said this student. The Dartmouth band has won many competitions, as have our sports teams.
DHS lacrosse player and track runner McKenzie Canuel said, "I'm proud of the opportunity each student is given to become successful within our school."
Spanish teacher Lili Chamberlain believes that our town is very different from others as it has a lot of diversity that should be celebrated. By being the best teacher she can be and being inclusive and appreciative to differences, she is displaying her Dartmouth pride every day. Mrs. Chamberlain said that along with the hundreds of hours students dedicate to music, theatre, and sports, she is also proud of "the many students who face adversity in their lives and still come to school with a smile on their faces, ready to learn and contribute."
One sophomore claims that there is no such thing as Dartmouth pride, as Dartmouth isn't all that special. They choose not to participate in Spirit Week because they are not proud of this school or the way it is run.
Surely, it isn't like the stereotypical high school that you grew up viewing on Disney Channel, but when it comes to the reality of high school communities, what separates DHS from all of the others? Senior Kayla Pine said, "It's a lot like every other town. Dartmouth pride is stupid."
With that being said, DHS parent Jami Wilder said that she is proud of the wonderful education her daughter has received while in the school system.
DHS sophomore Logan Bolarinho said that Dartmouth pride is a real thing and that we should be very proud of our athletic and music departments. Bolarinho wears Dartmouth apparel at his band competitions in order to display how proud he is of our school. "The staff's involvement in everyday school life for average kids is what makes Dartmouth such a great place," said Bolarinho.