The Guide to the Best Food in New Bedford, Dartmouth, and Westport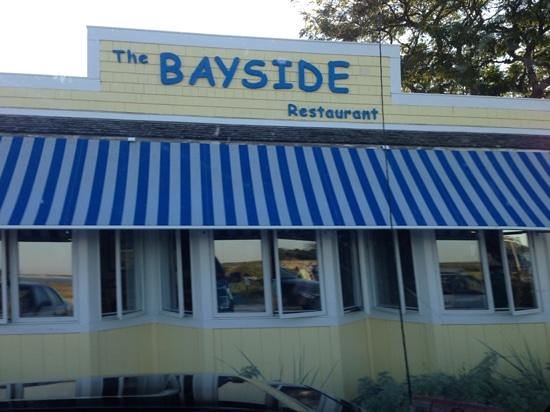 1. The Bayside, Westport, Massachusetts $$
The view is spectacular at the Bayside and overlooks Buzzards Bay, the Elizabeth Islands and the Mass Audubon Allens Pond Wildlife Sanctuary. Bayside serves an excellent variety of local seafood. The roasted beet and kale burger has always been a favorite of mine because it's unique, but the salmon and asparagus wrap is the best alternative. Regardless of what wonderful food you order at this friendly restaurant, make sure you order eggplant fries! The prices at Bayside are fairly inexpensive for the quality of food they offer. This is a popular destination in the area, therefore, the wait can reach up to two hours on busy nights, and they take no reservations. Fear not, you can enjoy drinks by the bar or enjoy the view by the firepit while relaxing on an Adirondack chair as you wait for your table. Overall, The Bayside is a great place to bring families or groups of all ages!
2. The Westporter, Westport, Massachusetts  $$$
If you are looking for a hands down incredible burger, this is the place to go. There is no burger you can find in this area that is better than the burger the Westporter offers. The beef is both fresh and local. They have a limited menu, but they have diverse options such as stuffed filet of sole, and greek chicken. This is a wonderful restaurant to visit in the summer, and is great for families. The Westporter also offers a catering service as well as dine-in.
3. No Problemo, New Bedford, Massachusetts $
No Problemo has a casual hipster vibe with incredible Mexican food. The burritos are insane. Not only are the burritos cheap, they're huge. No Problemo offers a perfect ratio of beans, rice, meat, and other wonders inside their burritos. There is something about the tortillas that significantly advances them above all other tortillas this world has to offer. There is a short wait for the food, and they have the option of take-out or dine-in. This restaurant is cash only, which can be an inconvenience to frequent debit card users.
4. dNB Burgers, New Bedford, Massachusetts $$
dNB Burgers has a colorful dining area, with the option of eating up or downstairs. Their burgers are very flavorful and fresh. The meat they use in their burgers is all local. They have an adventurous selection of burgers, but also some vegetarian options! The only downside to dNB is that it is rather cold inside due to all the windows in the dining area.
5. The Back Eddy, Westport, Massachusetts $$$-$$$$
The Back Eddy is near Horseneck Beach and is within miles of the Bayside. From the restaurant, it overlooks the Westport River. They serve creative seafood at the Back Eddy, integrating unique flavors into their cuisine. Although this is one of the best in Westport, they have a small menu, and the food is quite pricey. In the "Classics" section of their menu, the average cost for an entree is $28, or market price.
6. Bittersweet Farm, Westport, Massachusetts $$
Bittersweet is a rustic tavern and restaurant that has a both indoor and outdoor seating with live music! They have a beautiful upstairs that is available to rent out for weddings. Even though their menu is not very adventurous with flavor, Bittersweet is a wonderful place to go all year long. The cobb salad never disappoints. The ingredients are all fresh and healthy, 11/10 recommend this simple option.
7. Ming Sushi, New Bedford, Massachusetts $$
Ming Sushi has a wide variety of raw and cooked sushi, alongside many soups and salads. They have a popular all you can eat lunch option daily. The fish is high quality at Ming's. If you continue to order more sushi after an hour, the service becomes very slow and eventually they stop bringing you food. Also note that you are being ripped off with the price of all drinks.
8. Riccardis, New Bedford, Massachusetts $-$$
Riccardis is a reasonably priced old-fashioned Italian restaurant. They offer excellent Italian dishes, but you can never go wrong with their thin crust pizza, it never disappoints. They have a dine-in and take out option, as well as catering. Riccardis' food is excellent is very similar to Ma Raffa's. Despite their great food, Riccardis makes mistakes on orders quite often. It is not uncommon to cater a ziti, and then later find out it is still frozen.
9. Ma Raffa's, New Bedford, Massachusetts $
Ma Raffa's is the least expensive Italian restaurant in the city. Not many restaurants offer a 12 inch pizza for under $6.00! They have catering, take-out and dine-in options. Ma Raffa's food is very simple, just like Riccardis. The dine-in area is very small and crowded. The wait for food can also be lengthy at times. It can also be difficult to find parking at this restaurant.
10. Little Moss, South Dartmouth,  Massachusetts $$$-$$$$
Little Moss is located right on the water, with outdoor seating and a beautiful view of the Apponagansett Bay. They serve rather small portions, but excellent local seafood. Little Moss also has a healthy menu that serves dishes you will not find anywhere else. Reservations are recommended, or you will be waiting for awhile.
11. Mary's Steamed Burgers, New Bedford, Massachusetts $$
Mary's offers unique and flavorful burgers at a low price! They have a wide and adventurous variety of food that is inclusive for various diets. The owner is very friendly and the staff is wonderful. The dining area at this restaurant is small, but cozy. Mary's also offers take-out services!
12. Moby Dick Brewing Co., New Bedford, Massachusetts $$
Moby Dick Brewing Co. is a cozy, casual Brewpub with very fast service! The seafood is very fresh and the portions are decent. The staff is not the best. The often do not clear plates once the customer has finished their food, and they are not as friendly as other restaurants in New Bedford.
13. Portes Da Cidade, Westport, Massachusetts $$
Portes Da Cidade is the perfect place for comfort food. Although they have small plates, they serve delicious steak, fish, and other Portuguese specialties. This restaurant has unique architecture and outdoor seating. Portes Da Cidade can have a ridiculous wait, extending over two hours at times. Reservations are highly recommended.
14. Brick Pizzeria and Napoletana, North Dartmouth and New Bedford, Massachusetts $$-$$$
Brick is the perfect place to go for a quick bite. They offer great comfort food and outdoor seating. The down side of this restaurant is the unreasonable prices. Some of their specialty pizzas can climb up to $20, but not include not many toppings or extras.
15. Sail Loft, South Dartmouth, Massachusetts $$-$$$
Sail Loft has offers outdoor seating and live music. They have a diverse menu, serving varieties of seafood and pizza until late hours. The service to be seated and for food to arrive is poor at this restaurant. During busy hours, the food often comes out not fully cooked or the order is not correct.
16. Ten Cousins Brick Oven, Westport, Massachusetts $$
Ten Cousins offers moderately priced brick oven pizza with outdoor seating. This is the perfect place to go for a quick bite to eat. The menu is rather small, but the options are good. This restaurant to be inconsistent. Some days, the pizza is great, others it hardly has any cheese on it.
17. Cove Surf and Turf, New Bedford, Massachusetts $$-$$$
Cove Surf and Turf offers basic seafood and burgers with an outdoor seating option. The take out option at this restaurant is very poor, even the food is very good. The people over the phone are difficult to understand and are often impatient.
18. Fay's Restaurant, South Dartmouth, Massachusetts $$
Fay's offers basic Italian food at reasonable prices. The dining area is very big, therefore there is not an extensive wait to be seated. Fay's has similar prices to Riccardis, but the flavor is not anything unique.   
19. Lebanese Pita Pocket, North Dartmouth, Massachusetts $
Lebanese Pita Pocket is one of the only restaurants in this area that serves Middle Eastern food. The food is delicious and great for vegetarians. This place is just a little bit pricey for the portions of food. The location of Lebanese Pita Pocket can be hard to get to, since it is located right off of Route 6.
20. Fiesta Mexican Restaurant, North Dartmouth, Massachusetts $$
Fiesta's serves quality Mexican for a higher price until late hours. They have plates on the smaller side, but the portions are not too small. Fiesta's has a cozy atmosphere, even though it is very loud and crowded in the dining area. This restaurant has a very poor parking situation. If arrive at prime dinner hours, you will not find decent parking.
View Comments (4)