'He Got Game' deserves a second (or first) look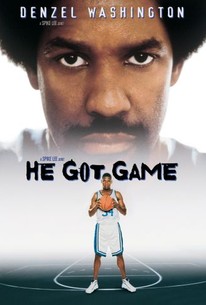 I was excited learning that former Celtic Ray Allen was in a Spike Lee movie. Back in the fifth grade, basketball was my love. He Got Game is the first movie I loved because the film is the most relatable thing to my life. I'm not a star athlete or star student, but the desperation from the ghetto, the hatred toward a father, and the hope for escaping made me love this film.
He Got Game is not team sport movie like Hoosier, but it's not a Space Jam. The level of corruption is bitter and sour. Denzel Washington has to convince his son, Ray Allen, to play for the Governor's alma mater to reduce his life sentence. Jesus Shuttlesworth (Ray Allen) has to decide if he can forgive his father for his abusive past that lead to the murder of his wife and Jesus's mother.  
Spike Lee creates a redemption sub-plot for Denzel Washington's character. Washington shows his gentle side without being aggressive and cold to a prostitute. The arc is confusing, but necessary to see the growth of a character serving life in person.
The film follows a young man trying to escape poverty, and many films use that formula. But He Got Game can be any kid on your high school basketball or even golf team.  To become a great athlete, you must have a balanced diet and exercise daily. To become great at any sport, you must have desperation and hope to propel you to the top.