Poetry Out Loud Finals review
"Poetry is thoughts that breathe and words that burn." – Thomas Gray.
On Wednesday, December 18, DHS hosted its second annual Poetry Out Loud Competition, where students from every grade recite poetry in a competitive setting. Sophomore Isabella Rapoza won the competition and will move to the next round, the Cape Cod Regional, in early 2020.
 The first round began as an English class assignment,  in which students needed to memorize a poem and recite it in front of their class. During the recitals, English teachers graded classroom performances according to the Poetry Out Loud scoring guidelines, then the top two to three students in each class progressed to the DHS Finals. 
From freshmen to seniors, poetry captivated the audience at every turn during the DHS event on December 18. Dramatic pauses from junior Miguel Pereira reciting "Abandoned Farm House" by Ted Kooser brought the audience suspense and worry for the characters in the poem. But dramatic poems weren't the only ones being recited, sophomore Randi Medeiros's "To Have Without Holding" (by Marge Piercy) recital touched upon subjects of love, longing and innocence while she spoke with great fervor.
Rapoza's performance was a highlight in the competition. Her recital of "Good People" by W.S. Merwin showed experience and control.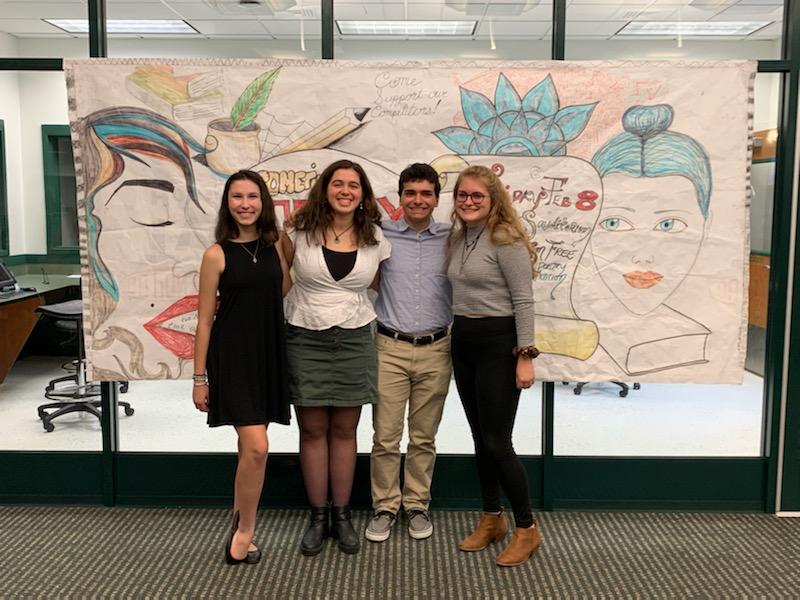 Freshman Hollie Raposa was also a competitor and said, "It was really nerve racking, especially being the first freshman to go up."
With words flowing from every contestant's mouth, the performances were definitely a success across all boards.
The crowd was captivated by all the performances. One spectator, freshman Piper Harrison said that one of the key highlights was all the reciters being "very emotional. It takes a lot of effort. I don't know how people could do that. I had trouble standing up in front of my classroom."
Over all a successful morning, but only four people placed.
First place: Sophomore Isabella Rapoza.
Second place: Senior Alexis Arruda.
Third place (tie): Senior Makena Wolfe and junior Miguel Pereira.
Leave a Comment