Freshman Football faces uncertain future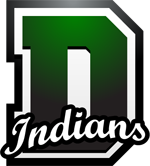 Numbers are down significantly for this year's DHS Freshman Football Team. The fear of concussions and other threatening injuries may be deterring some from playing the sport.
A recent Boston Herald article claimed, "Statewide, amid growing concussion fears, high school football rosters have seen a 10-year decline, while soccer and cross-country participation are climbing."
Freshman Nathan Alves is one of the selected few who plays on the team. "We have about 16 players this season," said Alves, "but we had two injuries."
The freshman team had to cancel a game against Central Catholic High School because of injury and lack of players.
Sophomore football player Max Fera said last year's freshman team had an abundant number of players. "Last year, we had like 30," said Fera. "This year, freshman has like 17 to 20."
Fera's parents share the same concerns about football. "My dad didn't want me to play," said Fera who also shares his dad's concern about concussions. "Yes, I do. I almost had one."
Freshman Coach and English Teacher Wesley Lima spoke about the numbers dropping. "Kind of sad. It's a great experience playing football," said Coach Lima. "That's why I coach."
Coach Lima is concerned about the freshman team's future. "It is concerning because not long ago about 40 to 50 came out for freshman football," said Coach Lima.
He believes worry from parents is the cause. "Parents are concerned about their kids. Fewer kids are playing because of concussions," said Coach Lima.
However, according to an article in the Sun Chronicle last month, "Jim Desper, president of White Hawks football in Attleboro, said the changes made in the youth game are also dramatic. He said the number of practices per week have been reduced from five to three. The amount of hitting is much less."
Head DHS Varsity Football Coach and Freshman Seminar Teacher Richard White believes science will tell the direction of football's future. "When all the science is out," said Coach White, "we'll decide."
Coach White teaches freshmen and does not see a big football class, but he would like the freshman team to remain. Coach White said, "I certainly would like to have a freshman team."
A freshman football team is crucial to helping students fully learn the sport. "It's a learning curve," he said, "because some kids never played football."
Athletic Director Jeff Caron thinks this is only a temporary drop. "This could be a one year thing. Sport participation goes up and down," said Mr. Caron, who is not concerned about the drop. "We are not panicking yet. This isn't a Dartmouth High issue."
Alluding to other school's situations, he believes Dartmouth's football program is solid. The Dartmouth football program will stay solid because of its rich history. "Dartmouth has a big tradition of football. I think the community loves football," said Mr. Caron.
Freshman Football could be the root of future problems, but right now, Dartmouth has few worries about it.
Coach Lima is optimistic. "The group we have is enthusiastic about football. They love football and love playing football for Dartmouth High," said Coach Lima.
Leave a Comment