Concussions are harming student athletes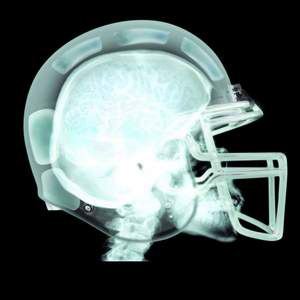 This school year, multiple student athletes have suffered head injuries that have resulted in concussions.
Concussions are becoming common injuries, and student athletes should be aware of the threat they pose.
"When a player shows signs of a concussion on the field they are immediately removed from the game or practice and attended to by our trainer or team doctor," said football coach Richard White. "If they do have a concussion and it is severe they may be sent to the hospital for further evaluation."
All DHS coaches have taken a concussion course and are certified by the National Federation of State High School Associations in concussion management.
Each student athlete is given a base-line concussion test on the computer at the beginning of each season.  "Our policy is that if student athletes have a concussion they will not be allowed to return to practice until all symptoms have gone away and they are medically cleared to play," said Mr. White. "They will also have to pass the base-line concussion test."
On Friday October 18, at New Bedford High School's stadium, Varsity Football Captain and Senior Class President Austin Williams suffered multiple hits to the head resulting in a serious concussion in a game against the Whalers.
"I didn't realize I had a concussion, not immediately after it happened," said Williams. "As the game went on, I took a few more hits and then started realizing I couldn't remember how I got there."
Multiple DHS students have been left with symptoms from sports-related concussions. "I had a minor headache, memory loss, and a feeling of grogginess," said Williams.
Sophomore Chloe Lang, who suffered a concussion from volleyball, said that she has been affected by "serious dizziness and headaches."
Sophomore Grace Gamache has had two separate diagnosed concussions from field hockey and basketball. "It hasn't affected my life all that much, but I am definitely more aware of my safety," she said.
Concussions can affect students' ability to do schoolwork and can cause multiple long term problems.
"[My teachers] were all very understanding and sympathetic," said Williams. "It was pretty cool of them to understand my situation and to work with me to help make school work more manageable."
"[My concussion] made school a lot harder," said Lang. "Memorizing and focusing has become a lot harder and my grades have gotten worse from it."
According to a recent article in the New York Times by Jan Hoffman, many student athletes are reluctant to admit they have concussions. Because concussions are not physically visible like a broken leg or bloodied nose, players may want to hide their symptoms and continue to play.
This is extremely dangerous; head injuries such as concussions can result in long term complications such as problems with  memory and concentration.
"I have not seen any long-term damage from concussions on our team, but we are only with our players for four years," said Mr. White. "We have had several concussions this season and depending on the severity, each athlete was held out until they were medically cleared to return."
Senior soccer captain Hannah Cook was hit in the side of the head by a soccer ball during a game earlier this year.  Cook does not remember anything that happened for the rest of the game and had to take some time off from school.
"Concussions have become a huge issue," said Cook. "More people would know about the severity of the conflicts concussions pose, but unfortunately, people who are in a position to raise awareness, such as the NFL, downplay the issue."
Senior Matthew Mailloux said, "I feel that people tend to dismiss concussions as minor injuries, but the brain is very different from an arm or leg."
Not getting tested for a concussion can seriously hurt an athlete in the long run. Also found in the New York Times, high school football players are twice as likely to get a concussion as college athletes or as high school athletes in other sports. Many athletes who get concussions complain of symptoms that last more than two weeks.
Improperly treated concussions can have a big impact on the teammates of concussed players as well.
"Concussions can affect your team because you could be out for a couple of weeks which leaves your team with a man down," said sophomore soccer player Maxwell Westner.
Williams said, "I wish I had realized that it was my team who suffered from my limited ability as a concussed player on the field."
"Every head injury is different," said Gamache. Still, concussions are very dangerous and serious injuries that should not be taken lightly.
Leave a Comment