Breaking the mold
Freshman girl on the gridiron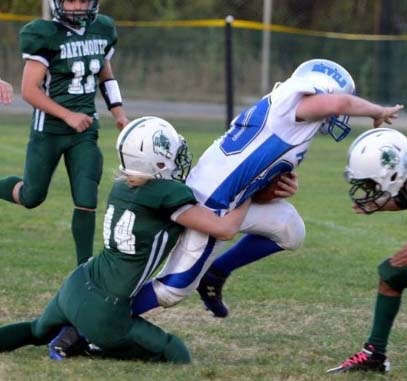 DHS student Kaitlyn Roberts is your average 14-year-old girl. She's a freshman in high school who likes Childish Gambino, studies biology, and says her favorite color is blue. However, there is one trait of hers that sets her apart from the rest: she plays football.
Roberts's love for football began two years ago. One day she found a football in her backyard and began tossing it around with her dad. From there grew the idea to tryout for the Pop Warner football team, a non-profit organization that provides youth with football and cheer and dance programs. Her father immediately encouraged this interest of hers. Roberts's mother, on the other hand, was worried about her sustaining an injury and was not as enthusiastic. Nevertheless, Roberts's mother allowed her to tryout for Pop Warner. To this day, her family continues to support her on and off the field.
Roberts played for one year with Pop Warner before trying out for the DHS freshman football team, which she currently plays for. She confessed to feeling nervous about tryouts for the Pop Warner team, but did not feel the same level of anxiety when trying out for the DHS freshman team.
Because of her experience in Pop Warner, she knew the other players trying out for the team, which helped to calm her nerves. She knew the other players were friendly and cared about her. This element of trust helped land her a spot on the team. In fact, Roberts started as an outside linebacker for the team's first two games and is currently the second string outside linebacker.
To get ready for practice and games, Roberts changes in a separate locker room from the guys. She puts her hair up, washes off her makeup, and suits up in football gear.
"They [male freshman football players] tell me they get pumped up in the locker room [before games], and I don't get that experience," Roberts said. It is a detail that contributes to the dynamic of the team, in her eyes. "It's a sacrifice I'm willing to make."
Roberts's teammates are, for the most part, supportive of her. While her teammates may tease her from time to time, they definitely do not "go easy" on her. In fact, she stated that her teammates are inclusive and stick up for her, if need be. Kaitlyn said playing football is "more about proving yourself," and she has already done so, which is why her team treats her like any other player.
However, the players she faces on the field are not as accepting. Insults such as "lesbian" or "[you're] more of a guy than a girl" are hurled at her by players on opposing teams. Others will simply use her gender as an excuse by claiming, "[I] don't want to hit a girl." It is only after Roberts hits the player that the player will then retaliate by hitting her twice as hard.
When asked about her achievement of being the first female football player at DHS, she stated, "I feel I get more attention than I should [because of my gender]. I want attention because I worked hard for it, not just because I am a girl and playing." Roberts hopes to continue playing football throughout high school.
Roberts is making history. She is breaking gender boundaries, and in doing so, Roberts is paving the way for future female football players and pushing our community a little bit closer towards equality and acceptance. It seems she has even become somewhat of a local figure among young athletic girls since she played with Pop Warner last year.
"It feels kind of cool, inspiring other girls playing Pop Warner," Roberts said in regards to the rising number of girls participating in the league this year.
For someone who is setting such a precedent, she seems to underestimate her influence. When she considered how girls playing football has become something that is seen as an oddity, she said, "I don't think it's that big of a deal. If you [girls] want to play, you [girls] shouldn't get attention for it."
Leave a Comment