New librarian Emily Goodwin updates library policies
Walking into the library this school year, you might encounter some new faces (and not just the faces of the class of 2023). EmilyGoodwin, our new  librarian, is a friendly face you can easily spot in the usually crowded media center. Ms. Goodwin has extensive experience in libraries – both public and school libraries – and is enthusiastic about what is to come for the media center. 
Here is a look at some of those changes.
One thing you may have noticed this year is the new policy about eating lunch in the library, which was once forbidden and strictly enforced against. Ms. Goodwin has worked with administration to create a change. Still in its trial run, students can now go to the library in the morning or anytime before fourth period to grab a pass to eat their lunch in the library for that day.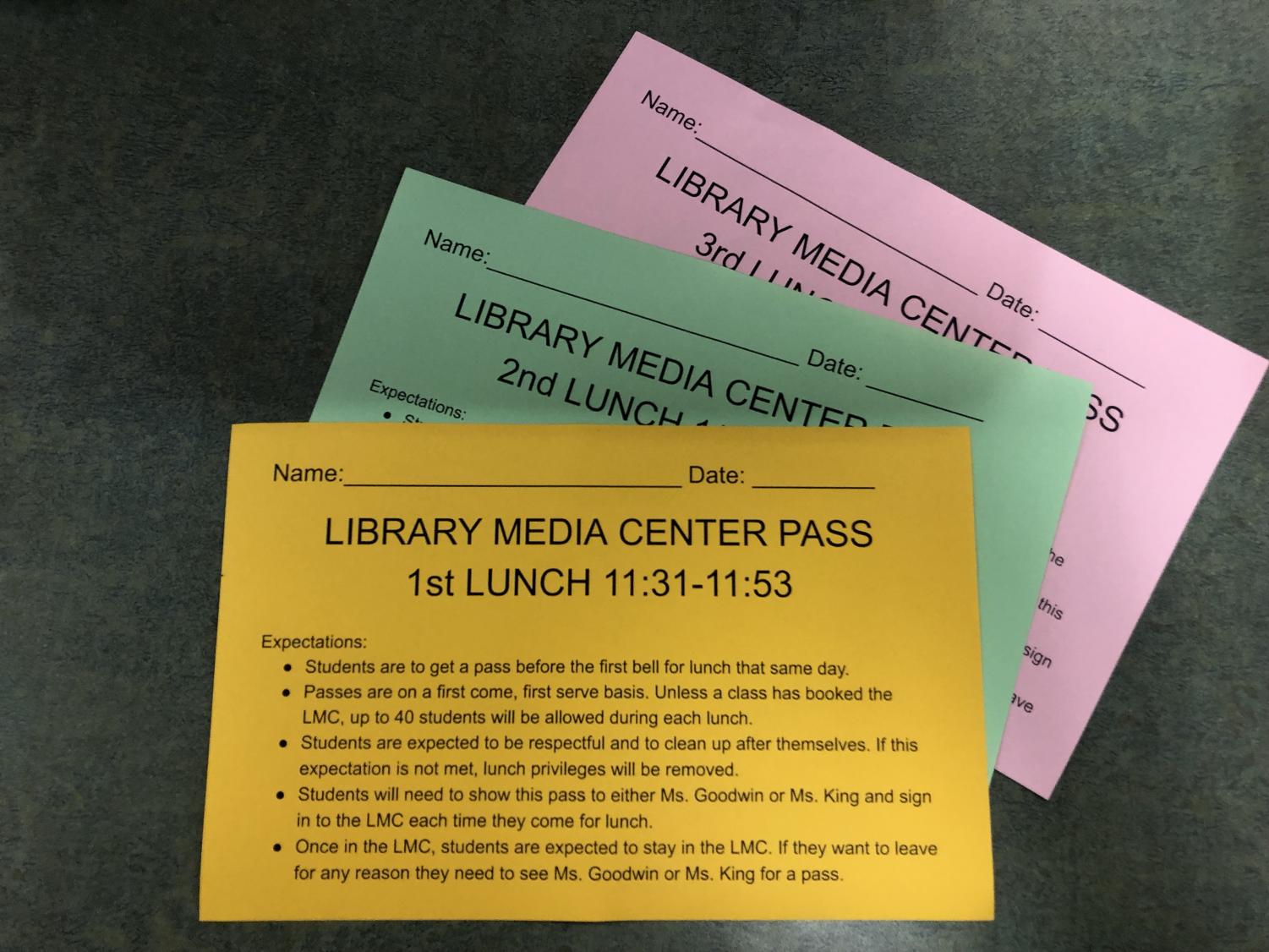 Ms. Goodwin believes that permitting students to eat lunch in the library will give students some type of "ownership" over the space that can be utilized respectfully. "Part of why I wanted students to eat lunch in the library is so students will have ownership over the space," Ms. Goodwin explained. "It gives the students the chance to prove that given the opportunity, they will display their responsibility and their ability to succeed."
Ms. Goodwin is aimed at providing a "dynamic, engaging, and welcoming space for students," and thinks that creating the media center as a secondary lunch space is one step of many that will allow this to happen. 
Any former Dartmouth Middle School student can recall the many uses of the middle school library. Not only was it a place to check out books, it also served as a research center, maker space, game area, lunch room, and overall safe space where all students felt a relief from the stressors of school. In a similar fashion, Ms. Goodwin has many future plans for the library to further its innovation. "There should be no gap between the libraries," Goodwin explained. "The middle school has a strong library so the high school should have an equally strong library." 
One project Ms. Goodwin is trying to accomplish throughout the upcoming school year is a reconfiguration of the media center as a whole. She hopes the space will be comprised of different parts. Some of the areas might include an innovation space, similar to the middle school library's "maker space," and a quiet space that is cohesive to working, but Ms. Goodwin is looking to students for ideas as well. She welcomes new ideas and hopes that the students can be a part of the process. 
Another idea Ms. Goodwin is hoping to implement is a Library Council. Currently " in the works," Ms. Goodwin is hoping that the Council serves as another way of providing student ownership over the media center. The Council would provide a student-oriented direction to what the media center becomes. Members of the Council would provide their input in book collection and uses of the space during the reconfiguration of the media center.
Administration and Ms Goodwin have been working alongside each other to help implement Ms. Goodwin's ideas. She is happy that administration has been so helpful, as she says this is not always the case when updating a media center.
Along with the help of Media Center Assistant Pamela King, Ms. Goodwin has been adjusting to the catalog our school uses, and other aspects of our own library. Ms. King is thrilled to have Ms. Goodwin working with the media center. "I look forward to working with her. She's great!" said Ms. King.
Ms. Goodwin hopes to greet any new faces she meets and has created an Instagram (@dartmouthhslmc) for the library where she can connect with students. In the meantime, she encourages students to drop in and say hello.
Leave a Comment