Hidden Beauty at DHS
In our futile attempts to portray order and cleanliness, it's tempting to paint over the graffiti on bathroom walls, throw out books with writing, and clean out sitting soups of garbage (as seen in photo one). On the contrary, to embrace every mark on the school as a student-made relic from modern history, is significantly more optimistic (and fun). Like a favorite sweater worn from overuse, a railing chipped from being touched by thousands of strangers, and Greek statues sculpted by time, some things are better and increasingly valuable when they're imperfect. Everyday we go by these masterpieces and don't think twice, and when we do it's easy to dismiss them as "vandalism" or "signs of an aging school," ignorant to their true artful individuality and timelessness.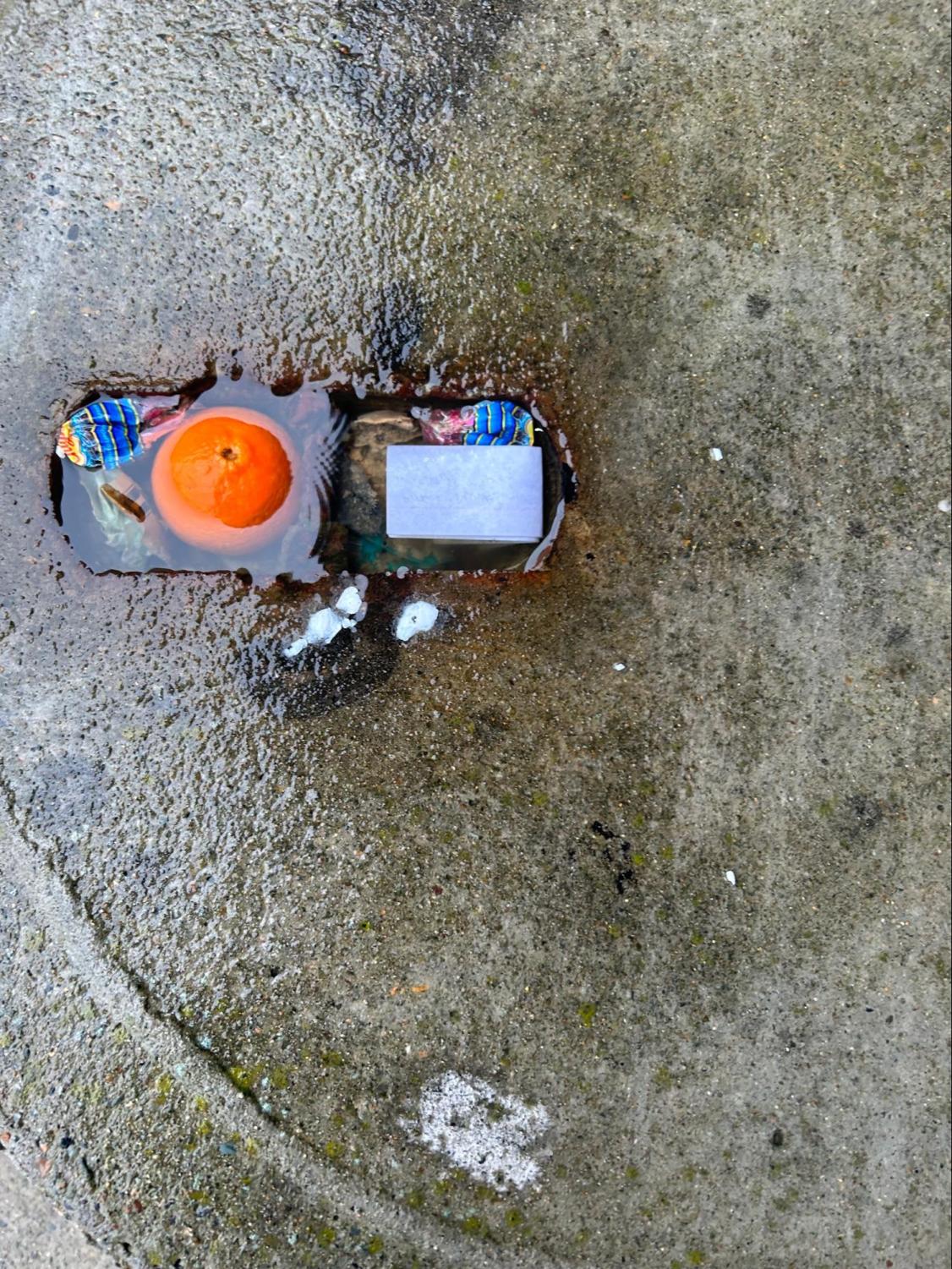 The picture that started this treasure hunt for evidence of beauty in the most unlikely of ways, is one of community. An orange, several Jolly Rancher candy wrappers, and a dollar bill are all ingredients in the soup of murky rain water in the photo. Originally the picture was taken in haste, an impulse, but now it may be the one of the best pictures I've ever taken. Each item is reminiscent of juxtaposed feelings: orange; life, money; greed, candy wrappers; joy and sweetness. All pieces appear stuck in their own time, contributed by different individuals to meet in one ecosystem, a mismatched family in its own right. The thought of strangers building a community in such a nuanced way evokes a sense of belonging in the trash soup.
---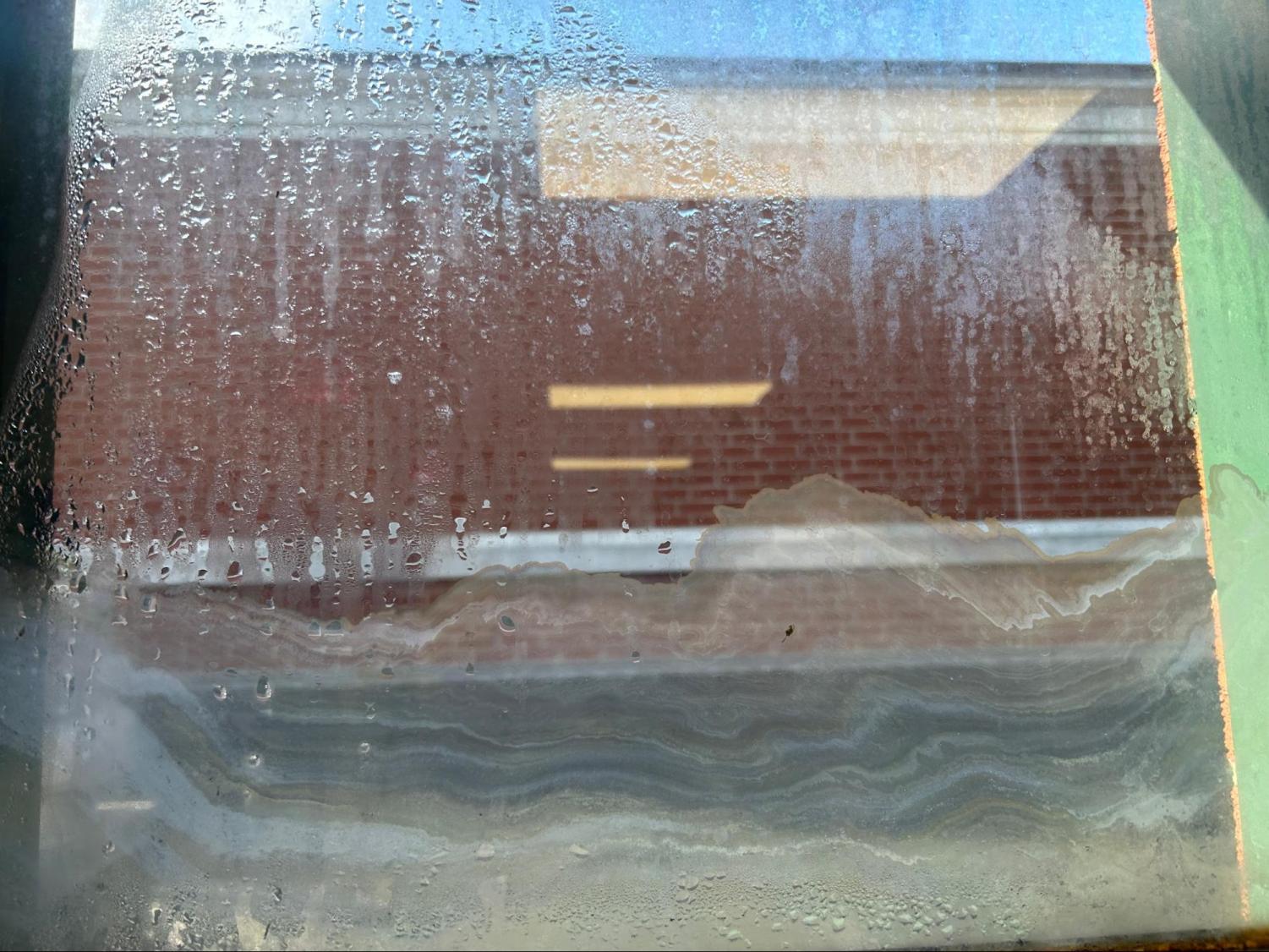 Most windows on the upper floor are so moldy it's impossible to see the outside world, but for this window the stages of mold build an Agate-like stone, with layers of colors and textures. Through this window, the world is a snow globe, always snowing, and shaded in cool tones of white and blue. The mold takes on the shapes of ocean waves that are painted in watercolor by time. The forces of nature distilled in one window is truly fascinating, a glimpse into the microscopic world of fungus, unaffected by human interference.
---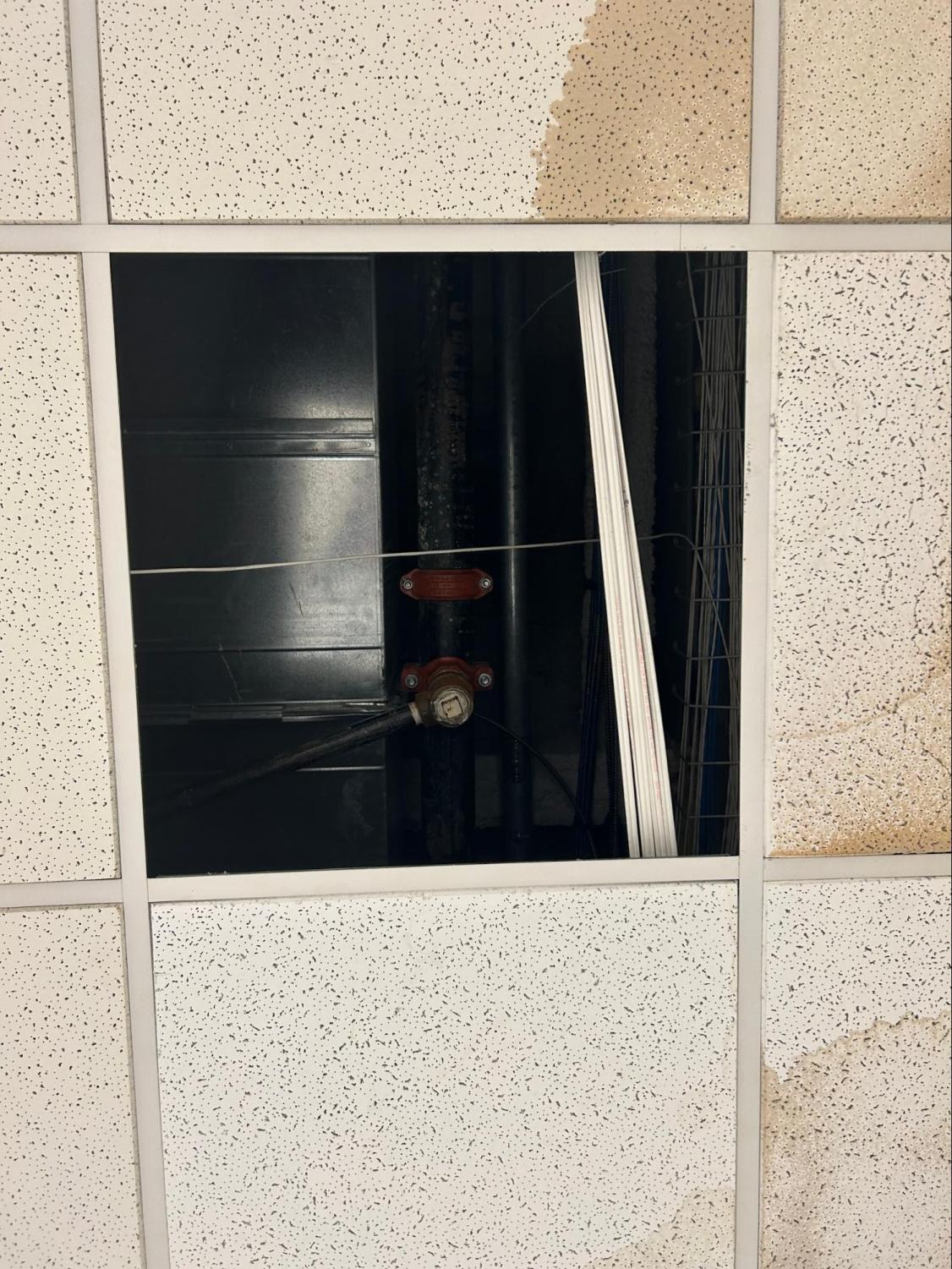 Time and time again tiles of the ceiling go missing for unknown reasons, and we pass under several of them daily, never looking up at the mysterious world above the ceiling. The glint of red piping can vaguely be seen between pipes in crosshatching. Although not a portal, the image still evokes curiosity, a small glimpse of the labyrinth that runs throughout the school mostly unseen, that can only be navigated by the most talented plumbers, electricians, and technicians.
---
Some of the descriptions are hyperbole—of course, but the point can not be stressed enough; what is insignificant now, might be missed later. Small things like the mold and garbage soups are easily forgotten after graduation, the community and small magic they created, gone unnoticed. It's fundamental to appreciate the little wonders of day to day life, and to avoid destroying them in efforts of gentrification, that can completely destroy the character of the school. The hunt for unlikely beauty gave me perspective, in comparison to oranges, disregarded dollars, colonies of fungus, and mazes of pipes; where do I fit?
View Comments (1)