You think your schedule is crazy?
Look at what these DHS seniors are doing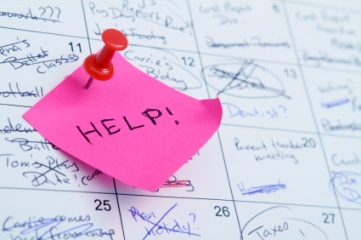 Hang on for a minute...we're trying to find some more stories you might like.
DHS is brimming with ways for students to become more involved. Whether it is through clubs, music groups, theatre, athletics, or student government, there is an extracurricular for nearly everyone. That is why so many students plan their schedules around practices and meetings. Yet, some students participate in such a large number of activities that questions about lack of sleep and stress levels have been raised.
Senior Stacie Hartman is used to being busy. She is Student Council President, School Committee Student Representative, Co-President of the Key Club, Secretary of the DHS Theater Company, and a member of the Harmonix A Cappella group, School Council, and Principal's Advisory.
Outside of school, she performs with a community service vocal group called Showstoppers across Southeastern Massachusetts, procuring an average of 300 community service hours a year.
Hartman also holds the title of Miss Bristol County's Outstanding Teen, which is affiliated with the Miss America Program. Through this role, she has made over 80 appearances at events in each town or city in Bristol County, such as singing the national anthem or speaking at public gatherings. Being a titleholder has given her the opportunity to speak with town and city officials about matters important to millennials and promote her platform, Rock the Vote.
Because of her passion for politics, Hartman also interned for Fall River Mayor Jasiel Correia II this past summer. Currently, through DHS's internship program, she is interning for U.S. Congressman Bill Keating, who represents the 9th district of Massachusetts.
Hartman said that her numerous activities have taught her to manage her time. Still, it is sometimes tough to juggle homework with her extracurriculars. "It's a little stressful sometimes, but I always find time to complete homework before it's due," she said. "I've been able to maintain a balance these past four years."
Despite the occasional difficulty, Hartman enjoys what she does. "All my activities are centered around politics and performing because those are my two passions," she said. "I really like to become involved with them in my community and in my school. Staying involved is how I've been able to meet so many new people and grow my skills in these two fields."
Senior Allison Silvia also has a loaded schedule. She is an active participant in Student Council, National Honor Society, Yearbook Club, The Spectrum, the Environmental Club, and is the school Co-Representative for the Southeastern Regional Student Advisory Council and the president of the Debate Team. "One of my favorite activities is debate team," she said. "I used to be fairly shy when I started, but being involved in debate has had a major impact on my speech, confidence, and presentation."
It is typical for her to have a meeting every day for any one of her many organizations. She also runs for both the winter and spring track teams.
Outside of school, she works at Old Navy and this past summer, she interned at the Naval Undersea Warfare Center in Newport, Rhode Island.
In regards to balancing homework and her activities, Silvia said, "Sometimes it gets a little overwhelming, especially since I tend to procrastinate. I always find a way to get my work done even if it means staying up late."
Yet, according to Silvia, being involved is worth losing a few hours of sleep. "Clubs and sports are a really great way to make friends and meet people who are interested in the same things as you," she said. "If there was more time in the day, I would probably be involved in even more clubs."
Senior Dominic Vaccari agreed that extracurricular activities are extremely crucial. He said, "It's so important to participate in extracurriculars because that's what you'll remember from high school and that's how you make, keep and interact with friends. I've learned a lot of valuable information from my activities, just as important as school work in my opinion."
Vaccari is a member of the DHS Strings Orchestra, Chamber Orchestra, Jazz Band, Hockey Team, Baseball Team, Environmental Club, National Honor Society, and has been Drum Major of the DHS Marching Band for the past four years. As Drum Major, he conducts at the band's parades, practices, and competitions. "I really enjoy the amount of effort put into the band," he said. "There are 120 people, and we all work together to reach our goals. It's pretty cool to watch."
Outside of school, he works as a baseball umpire and volunteers through National Honor Society. Over the summer, he interned at the Naval Undersea Warfare Center. On the average school night, he sleeps for five to six hours.
Senior Victoria Cameron, another hard- working individual, is an avid participant in National Honor Society, Student Council, Unified Track, DHS Strings Orchestra, and Chamber Orchestra. Also, she is Co-President of the Math Team and the DHS Co-representative for the Southeastern Regional Student Advisory Council. Outside of school, she works at Not Your Average Joe's and volunteers with the Beacon Hospice Center, which provides services to reduce the suffering of patients during their final stages of illness, and the American Red Cross at their New Bedford Food Pantry.
In addition, she dances with both the New Bedford Ballet and the New Bedford Youth Ballet, which often require five days of classes and rehearsals a week. Through the Youth Ballet, she performs at local schools and hospitals. "I like what I do," she said. "It is a way for me to be with my friends outside of the classroom."
Because of her loaded schedule, Cameron often works to complete homework early into in the morning. "I can't sleep when I know I haven't finished," she said. On the average school night, she sleeps for five hours.
A study done by the National Sleep Foundation stated that only 15 percent of high school students procure the recommended eight to ten hours of sleep per night. Between practices, meetings, work, volunteering and homework, it has become increasingly difficult for involved students to have time to gain a healthful amount of rest.
Are students being held to excessively high expectations that can ultimately harm them?
Hartman disagreed. "I don't think too much is expected of students today," she said. "No one is pressuring students to get involved."
Vaccari placed a lot of value on student participation.  "Parents and teachers set some ridiculous standards for kids," he said. "I think that some parents are in the mindset that their kid has to get into Harvard or Brown to be successful in life. Parents like mine are very supportive, but I do know people who are like insane because of the expectations put on them. At the same time, it's so important for kids to get involved."
His sentiments were echoed by Silvia who said, "I think a lot of students feel pressure to get really involved, but the key is to find things you really enjoy doing."
However, Cameron definitely thought that the strain forced on students needed to be remedied. "People think that we're not human beings, and that it's okay for us to have no sleep at all," she said.